Serving clients in Salem and the surrounding area
---
Oregon Estate Planning Attorney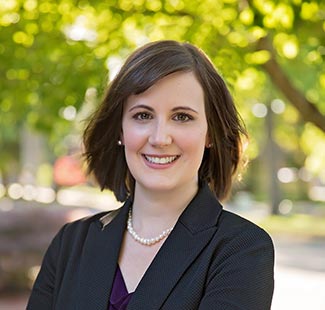 Stephanie M. Palmblad
Attorney
Stephanie M. Palmblad is an Estate Planning and Probate attorney at Collier Law in Salem, Oregon. She assists clients with creating wills, trusts, and other documents to help manage their affairs. In probate matters, she helps clients finalize their loved ones' estates or create guardianships or conservatorships for their family members. She has a passion for enabling families to create plans that meaningfully communicate their values to their loved ones.
Stephanie attended Willamette University and Willamette College of Law, where she graduated Magna Cum Laude. While in law school she was actively involved in both the legal journal and the mock trial program. She was chosen by her professors to receive the Bruce Spaulding Memorial Award for Trial Advocacy. She continued to coach law students preparing for regional trial competitions through 2016 when her team of Willamette Law Students advanced to the final round of the Seattle regional competition for the first time in 32 years.
Stephanie enjoys using her English and law degrees to write wills, trusts, and other estate planning documents. The field of estate planning and administration fulfills her passion for working collaboratively with clients to create and carry out carefully crafted estate plans. When a loved one passes, Stephanie uses her wisdom, expertise, and compassion to guide families through the probate process.
In 2016, the Oregon State Bar New Lawyers Division honored Stephanie with the Member Services Award as well as the co-recipient of the Project of the Year Award. In 2017, she was awarded the Carson Award for Service to the Marion County Bar Association for an extraordinary impact on the life of the local legal community.
Stephanie moved to Salem in 2008, fell in love with the community, and decided to make a home here. When she is not spending time with her two children, she volunteers with Family Building Blocks and Habitat for Humanity and enjoys heading out to Pentacle Theatre. Stephanie is also the attorney for Cherry City Roller Derby, where she skated for five years under the name Elle Legal Motion.
Education and Admissions
Oregon State Bar, 2012
Willamette University College of Law, Salem, Oregon, JD, Magna Cum Laude, 2012
Willamette University College of Liberal Arts, BA, Major: English, 2009, Cum Laude
Professional Activities
Member, Mary Leonard Law Society, Chapter of Oregon Women Lawyers
Member, Wealth Counsel
Member, Willamette Valley American Inn of Court
Member, Willamette Valley Estate Planning Council
Member, Salem Area Chamber of Commerce, Chamber Business Women
General Counsel, Cherry City Roller Derby
Attorney Support Panel, Moot Court Board, Willamette College of Law, 2013-2016
Member, Family Building Blocks Young Leaders Council, 2014-2017
Member and New Lawyer Division Liaison, Marion County Bar Association, 2015-2018
Board Member, A.C. Gilbert's Discovery Village
Delegate, American Bar Association House of Delegates
Member, American Bar Association Standing Committee on Gun Violence