Welcome to Our Office
We are located just south of downtown Salem, Oregon, in the heart of the Willamette Valley.
Salem is the state capitol and home to many state agencies, art galleries, museums, and vineyards.
Visit our Contact Us page for more information about parking and map/directions from your location to ours.
Reception and Office Accommodations
Local Artists
Our reception area features local Salem artists Daniel Ngand April Waters chosen with the help of the Salem Art Association. We strive to provide a welcoming and warm environment for our clients and staff alike.

Seminar Room
From business meetings to informative classes, our Seminar Room is the perfect setting for gatherings and events. Whether we're hosting one of our free educational workshops, a non-profit board meeting, or a networking event for local professionals, this space enables us to accommodate groups both large and small. The room houses three pieces of artwork by April Waters, known as "Three Waters." The pieces feature the Metolius River, Oneonta Gorge, and Opal Creek Falls.

Conference Room
Our Conference Room features the artwork of local artist Dale Kurtz and shows the Santiam River and Three Sisters and Broken Top mountains.
ADA Accommodations
We installed an ADA (Americans with Disabilities Act) compliant entrance for easy access to our office. Our meeting rooms and restroom are also ADA compliant.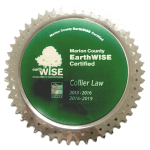 Green Certifications
Our building is "Green Certified" by Marion County Environmental Services. Our commitment to the environment was recently documented in a Statesman Journal newspaper article. As an EarthWise certified business, we provide recycling containers for paper, bottles, cans, and more. We use rechargeable batteries, offer washable glasses, conserve water, utilize a compost bin, and rely on compact fluorescent light bulbs in our building which are operated by motion sensors.


We have two locations to serve you!
Oregon Estate & Elder Law is a sister company of Collier Law. Please note that some phone calls and emails may be answered by our team at this location. We look forward to hearing from you!
Collier Law
1020 Liberty St SE
Salem OR 97302